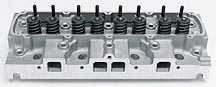 I had some questions about the new Edelbrock Aluminum heads and figured others probably had the same questions, so I put a web page together to help others answer their own questions. I hope the following helps you out. Contents of this page is courtesy of Mondello Performance Products and Edelbrock.
---
| | | | | | | | | | |
| --- | --- | --- | --- | --- | --- | --- | --- | --- | --- |
| Part Number | In. runner volume | Ex. runner volume | Chamber volume | Deck thickness | Intake valve size | Exhaust valve size | Valve spring diameter | Rocker stud diameter | Pushrod diameter |
| #6051 | 188cc | 106cc | 77cc | 5/8" | 2.072" | 1.680" | 1.45" | 7/16" | 3/8" |
#6051 Cylinder Head Flow at 28" H2O

LIFT
INTAKE
(RIGHT)
INTAKE
(LEFT)
EXHAUST
.100"
67
67
54
.200"
131
131
102
.300"
195
195
137
.400"
245
247
163
.500"
278
256
179
.600"
268
259
188
Note: All flow numbers were taken directly from Edelbrock's web page and are in cfm. Actual airflow numbers will vary depending on where you live. Intake flow numbers are right and left ports.
---
Edelbrock Performer RPM Aluminum Oldsmobile Cylinder Heads
These heads will accept all stock and after market intake and exhaust manifolds, plus any type of headers. All bolt patterns and accessory bolt pads are in stock location. The cylinder heads are supplied with 7/16" head bolt holes and can easily be bored for ½" head bolts. The exhaust and rocker stud holes are heli-coiled for added strength and longevity. The combustion chamber volume is 77 cc's and can be milled for smaller cc's if needed. The 356-T6 heat treated aluminum casting is very strong and durable, plus will give you a significant weight savings.

You can run a higher compression ratio about 10 to 1 with today's gasoline without detonation, because of the heat dissipating aluminum design incorporating a new designed water jacket. The valve sizes are 2.072" intake valve and a 1.680" exhaust valve both with 11/32" valve stem size, 45 degree valve face, one piece stainless steel construction, undercut hard chromed stem (the valve guide angle is 6 degrees). The pedestal-type stock rocker arm assembly has been replaced with a 7/16" rocker stud and a 3/8" guideplate, for adjustable rocker arms and will require special length 3/8" hardened chrome moly push rods. Mondello Performance Products also has a 5/16" guide plate available and 5/16" push rods, if you wish to go this way.

The OEM position, intake entry and exhaust exit, makes this head so unique because everything you now have will fit with no modifications. The stock intake port flow on a "C" casting cylinder head is 230 CFM and the exhaust is 162 CFM, which is 30% less than the new Edelbrock head. The exhaust to intake flow ratio is 69%. The new double quench design combustion chamber has the spark plug angled at 45 degrees and moved over closer to the exhaust valve for a better and cleaner burning of the gases in each cylinder, producing more power and torque.

The intake port is stock size and in stock location like the "C" casting Oldsmobile heads. The exhaust port is a totally new design, which is much shorter in height, "eliminating the dead area", but approximately the same width. The center line of the exhaust bolt hole to the top of the exhaust port is .870", while the stock "C" head is about .910". The exhaust port is 1.540" wide and 1.400" tall. The valves are longer than stock OEM Oldsmobile valves. The intake valve is 4.756 long and the exhaust valve is 4.780 long, which will require a taller than stock valve cover. The 6051 Edelbrock heads will come with manganese bronze valve guides. The heads do not have any head cross over provisions for a choke stove type choke and have individual exhaust port runners for positive evacuation of the exhaust gases. The deck thickness is .625" finished. You can mill these head surfaces .080" to .100", to decrease the combustion chamber cc's for installation on 330-350 and 403 small-block engines. You must use the 7111 Edelbrock Performer Manifold when using these heads on a small block Oldsmobile engine. The 7111 has ample aluminum for port matching (required) and good gasket sealing.

The pre-counterbored head bolt holes will have to be bored to ½" for use on 1977 to 1980, 350-403 and 1978 to 1985 diesel blocks being used for gasoline applications. The 6051 Bare Performer RPM Heads come with valve guides, hardened seats, 7/16" chrome moly rocker studs and 3/8" guide plates. The valve guides are not reamed or honed and the valve seats are not machined. The 6052 Complete Performer RPM heads come with stainless steel undercut valves, 7/16" studs, 3/8" guide plates, positive type valve stem seals, outer valve springs with flat wound dampener, chrome moly 11/32" valve spring retainers and 11/32" machined valve locks. The heads are assembled, ready to install on your engine. The valve springs can be used on any hydraulic or mechanical (non-roller) camshaft, up to 6000 RPM and .575 maximum lift. Mondello feels this is the best performance cylinder head ever built for the 1965 to 1976 big block Oldsmobile engine and can also be adapted with some work to the small block Oldsmobile engines. This Performer RPM Cylinder Head out of the box will give you much more power and torque over the best heads ever built by Oldsmobile, plus it out flows any existing out-of-the-box manufactured aluminum Oldsmobile heads.

Since these heads will flow much differently on the exhaust (thank god) than a factory Olds head, a new cam design will really bring out the power. Less of a "split pattern" will be required. Mondello has twelve newly designed cams to compliment the new cylinder head in hydraulic, flat tappet and roller designs.

If you have any tech questions I'd recommend calling Dick Miller Racing or Mondello to get the best answer.
---
HOMEPAGE
CAR'S STORY
BURNOUTS
VIDEOS
RACE GAS INFO
HEAD FLOW
ROCKET LINKS
---